Advanced Design's line of total data-erasure products offers just the right erasure method for each media type and whether or not the media will be re-used.
Erasure of data from recyclable devices
This refers mainly to erasure of magnetic data by use of magnetic force to clear data from magnetic recording media.
Degaussing (MagWiper series)
Standard method of erasing data from non-reusable magnetic memory devices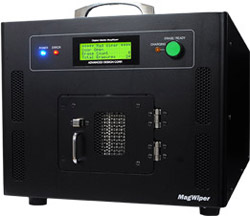 Because data are cleared instantly, large numbers of hard drives, magnetic tapes, floppy disks and other magnetic media can be rapidly sanitized. Data can also be erased from the platters of damaged hard disks that are no longer operable. Models are available for erasing data from notebook PCs without having to extract the hard drive.
Advantages:
Media capacity has no impact on the time required to erase data.
Each degaussing cycle takes only 0.1 second, so large amounts of data can be rapidly erased.
Disadvantages:
There is no visible change in the appearance of the media after data erasure.
It is difficult to demonstrate the complete erasure of data visually.
Data erasure is possible only with magnetic media.
The sanitized media cannot be reused.